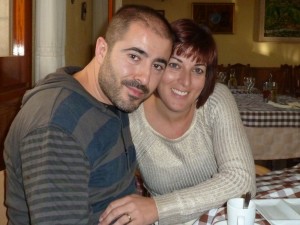 Welcome!
We are Laia and Joan and are very happy to introduce you to our cozy apartments located near the very seafront which will offer you spectacular views. Opened in June 2013, we invite you to enjoy one of our four modern and functional accommodations, equipped with everything needed and a careful decoration.
Located in this precious location that offers the Costa Daurada, in a closed coast with its calm and shallow waters, La Mora beach is ideal for families and couples who desire relaxation and comfort for holiday. We invite you to enjoy calm surrounded by the sea and our mountains, very close to points of high interest as attractive as the city of Tarragona, home of exceptional archaeological heritage (World Heritage Site since 2000), Port Aventura, the castle Castillo de Tamarit or, just to give you some examples, the old town of Altafulla, the mediterranean pine forest, Bosc de la Marquesa and our pristine beaches…
Tarragona offers everything you may want on your vacation: an ideal weather to enjoy the beach from April to November, an exceptional cuisine, culture, water and amusement parks (Port Aventura) as well as plenty of sports activities. If you like the variety there are golf courses, go-karting, horse riding, hiking, mountain biking, sailing schools…(Everything at your fingertips in just a 15-40 minutes drive).
Nearby, one hour away, you will find interesting places such as Barcelona or areas of outstanding scenic interest as the region of El Priorat, dotted with beautiful vineyards, or as the Cistercian Route with its most famous example: the Monastery el Monestir de Poblet.
We await your visit!
Laia and Joan